The fundraiser celebrates the launch of BCI Roundtables, created to help investors demystify blockchain through education, transparency, and targeted business networking. Industry experts and investors will explore blockchain's impact on Arts and Culture, in particular:

1. Moving existing visual arts to blockchain for security and tracking

2. Emerging and AI generated arts on blockchain (such as CryptoKitties)

3. Utilizing blockchain technologies to protect artist's rights and compensation


The upcoming series of curated round-tables will focus on educating and connecting investors with unique opportunities in blockchain.

Why Sponsor?
BCI Summit provides extensive opportunities for companies to connect with investors, media and the community. Showcasing your company, brand and products allows for interested parties to connect with your organization before, during and after the event. Ongoing media coverage provides ongoing brand recognition and networking opportunities.


Event:
Growth and Opportunities in Arts with Blockchain

Date:
25th July 2018, 6pm-9pm

Location:
32 Orchard St.
New York, NY 10002

Agenda:
6:00-7:00pm - Welcome Reception and Networking
7:00-8:00pm - Speakers Panel and Q+A
8:00-9:00pm - Raffle & More Networking

Panelists include Richard McBeath, VP of Growth at Masterworks, a company democratizing ownership in the world's greatest masterpieces by allowing investors to purchase and trade shares on an approved trading platform, Judy Mam, Co-Founder of Dada.nyc, the world's only visual conversation network where artists and regular people speak to each other through drawings and create art together, and Tatiana Moroz, Founder of Tatiana Coin, the world's first musical artist cryptocurrency facilitating crowdfunding campaigns with flexible and transferrable rewards.
Charity
All net ticket proceeds and donations will be donated to Make-A-Wish® Metro New York (www.metrony.wish.org).

Raffle
All proceeds from raffle ticket sales will go to Make-A-Wish®. Raffle prices include wine from Fulkerson's Winery, Lady M® Cake, Dada.nyc artwork as well as a unique CryptoKittie worth up to $2,400.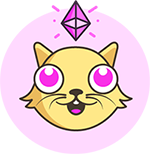 More information on the Cryptokittie
here
.
Who we are
BCI provides trust, transparency and transactions in the Blockchain space through curated round-tables, networking and other events, connecting investors with unique opportunities in Blockchain.